After the Masters, the Chick-fil-A Peach Bowl Challenge helps kick off our golf season at Reynolds Lake Oconee. The charity tournament, held at Reynolds since 2007, consists of an 11- team field of FBS head coaches and Alumni. The contenders compete in a two-man scramble format over 18 holes, vying for a first-place prize of $110,000 towards scholarships and charities. 
Over the past 11 years, the challenge has provided a total of $6.8 million in scholarship and charity. Participants of the tournament have included head coaches, professional golfers, former athletes, and celebrities.
This year's players included: Reynolds Members Kirby Smart (Georgia) and Dan Mullen (Florida) along with Nick Saban (Alabama), Gus Malzahn (Auburn), Paul Johnson (Georgia Tech), Larry Fedora and Roy Williams (North Carolina), Matt Luke (Ole Miss), Dabo Swinney (Clemson), Pat Narduzzi (Pittsburgh), and first-time participant Brian Kelly (Notre Dame).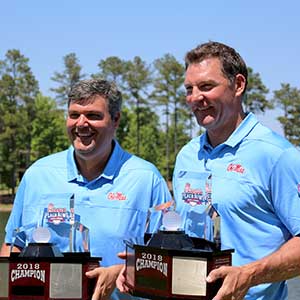 Team Ole Miss, Head Coach Matt Luke and Wesley Walls, won the tournament for the third consecutive year. The competition, along with the special "Closest to the Pin" Challenge held at the Reynolds Kingdom of Golf and won by Auburn Head Coach Gus Malzahn, will be broadcasted on ESPN this summer.
This year also featured an inaugural Legends Tournament with 10 former coaches vying for a share of $50,000 toward their charities. These coaches included Reynolds Members Frank Beamer (Virginia Tech), Ralph Friedgen (Maryland) and Jim Grobe (Wake Forest). Other participants were Chan Gailey (Georgia Tech), Bobby Johnson (Vanderbilt), Bob Stoops (Oklahoma), Tommy Tuberville (Ole Miss), Tom O'Brien (Boston College), Steve Spurrier (Florida), and Mack Brown (North Carolina).
As a Reynolds Member myself, I have been a spectator and avid follower of the tournament for years. Watching all these famous coaches and celebrities in my backyard is one of the year's highlights for me.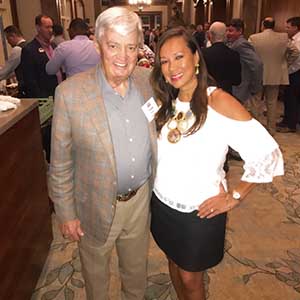 As a Sales Executive at Reynolds, I've had the opportunity to help a number of these coaches find a property or home in the community. Many of them discover Reynolds through playing in the tournament.
I attended this year's welcome dinner at The Ritz-Carlton Reynolds, Lake Oconee with two other colleagues. It is always a fun event and a great start to the tournament, especially during the pairing, when sponsor teams select their celebrity players. During the event, I was asked what attracts these coaches and sports celebrities to the community.
My answer was easy: Reynolds is the perfect getaway spot, from its six first-class golf courses and beautiful lake, to its unparalleled amenities, all not too far away from Atlanta and the airport.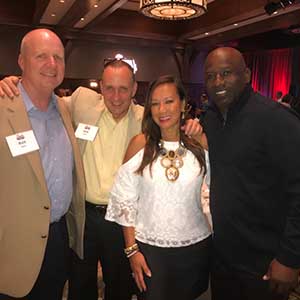 Many of the coaches run into each other on the water or the golf course. For years, I've been lucky to be invited and attend a July 4th lakeside BBQ at the home of one of our Member coaches. It is fun to watch these celebrities relax, and enjoy their families and friends. And that's the allure of Reynolds Lake Oconee. With over 300 miles of shoreline, coaches and celebrities can still have their privacy in a spectacular setting.