A visitor is exploring Reynolds with a question for residents: "What and where is the best meal?" The first three responses are echoed, and they're surprising: "The pork chop at The Tavern." Wait. We've met internationally- acclaimed chefs here. The menus take weeks to develop. Specially-sourced ingredients are used. The highlight is a pork chop? Executive Chef Derin Moore tells us why.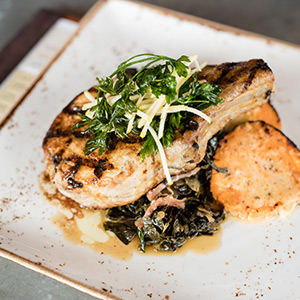 → It's the number-one dish on the entire property, period. There would be an uprising if we took it off the menu. Seriously.
→ We buy pork that's the equivalent of marbled Kobe beef. You can cut it with a fork, no knife.
→ Our wood-burning oven heats up to 700 degrees. We can grill the pork chop, with a perfect sear, in six minutes to lock in the flavor.
→ When this place is buzzing, it feels like a really cool tavern, with premium dishes served quickly. The pork chop symbolizes all of that.
→ I'll taste the pork chop regularly for quality. It's really an amazing piece of meat, and I'm not easily impressed … and I'm vegan.