Growing up in the Big Apple, Kevin Urrutia often yearned for living in the country. "I knew nothing but the busy streets and concrete jungle of New York, and always wanted to escape to a simpler way of living," says Kevin.
Luckily, he met Stacey—they both worked in the pharmaceutical industry, she in cancer research, he in sales—who grew up on Hilton Head Island and was accustomed to a slower pace. Even more luckily, her parents moved to Reynolds Lake Oconee in 1996.
"Kevin and I would visit them often while we were dating," says Stacey. "We loved coming down to the lake and just getting away from the city."
They loved it so much they held their wedding in 1998 at Reynolds. "We were one of the first couples to hold a reception at Great Waters," Kevin remembers. "All our friends were surprised when we chose Reynolds as our wedding destination because it was so unknown at the time, but all were pleasantly surprised once they were here."
In 2000, they relocated to suburban Atlanta, which put them much closer to Stacey's parents—and Reynolds. "The commute was so easy," says Stacey. "We felt like we went on mini-vacations all the time."
Kevin and Stacey eventually purchased their own cottage at Reynolds. "We were able to rent our place throughout the year and still have a place to come," says Stacey. After a few years of trying to have a child, their first child was born in 2003, and the visits became more frequent. "Of course, my mom and dad wanted to see Tyler as much as possible, and the entertainment was endless for children."
Four years later, Drew was born. It didn't take long for them to realize that the two-hour drive wasn't making much sense. "Lake Oconee Academy had permanently opened and we saw so much potential in the school system. We knew it would provide a top-notch education for Tyler and Drew," says Kevin. "My job enabled me to work from home, just needing access to the airport for travel, and our renters conveniently moved out…so we moved in!"
By 2008, they were at Reynolds full-time. "The quality of life here is incomparable to anywhere else we have ever lived or visited," says Stacey. "Reynolds is full of dynamic people who have led exciting lives and they bring that with them. We've found it's a really great culture with kind-hearted community members, making it an ideal place to raise our children."
As a regional sales manager for a large medical device company, Kevin has to travel, but is comforted knowing the family is inside a 24-hour gated community: "I know my wife and kids are safe when I'm away. The kids ride their bikes to the Lake Club or The Ritz-Carlton to meet up with their friends all the time. There is never any concern with them being 'on the streets' of Reynolds."
Since the Urrutias dealt with infertility issues, Stacey chose to be a stay-at-home mom when Tyler and Drew were small. Now that they're a little older and she has more time, she's acted on her dream of becoming a writer. And with great success. "After many years of volunteering and fundraising for the school's foundation, I decided to write a book on our many years of struggling with infertility." Her book, Making Angels, was recently featured on TODAY Parents, an online parenting discussion board affiliated with NBC's The Today Show. "It's been such a humbling experience telling our personal story and hearing its effect on so many others."
When time allows, Kevin, Stacey, and the boys like to get back to the basics and share quality time together. "We love the outdoors and spend a lot of family time outside," says Kevin. From boating, fishing, and hunting to biking and sporting, Reynolds offers many ways to simply enjoy the fresh air. "Stacey and I encourage our boys to stay active."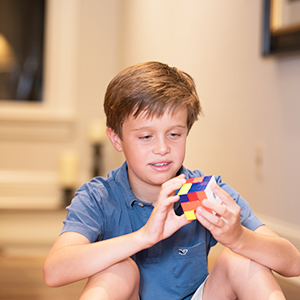 And active they are: 10-year-old Drew is all in with soccer, playing on a travel team and planning to play for his school once he enters middle school. The quick-witted youngster is also a whiz with a Rubik's Cube: "My fastest time so far is 36 seconds. I have different shapes (2x2, 3x3, pyramid, and cylinder) and can solve all of them. I just starting watching videos on YouTube and figured it out one day."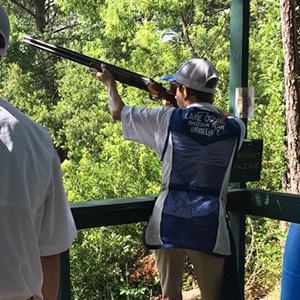 Tyler, 14, plays soccer and basketball for Lake Oconee Academy, but his passion is shooting. "I went with my dad to a work event at a nearby shooting club. One of the men got sick and couldn't participate, so I got to stand in." That was three years ago. Since then, Tyler has become a "sharpshooter," placing second in Intermediate Advanced skeet shooting at the 2017 Southeast
Regionals for the Scholastic Clay Target Program (SCTP). He is a member of the Lake Oconee Shotgun Team and plans to shoot for Lake Oconee Academy's first shotgun team this fall.
"We are so fortunate to live at Reynolds and enjoy all the amenities," says Kevin. "Many move here for the golf, which is obviously superb, but there is so much more here. And now with the new Sandy Creek Sporting Grounds, a complete new era of outdoor activities at Reynolds is possible.
It's been almost 10 years and three homes since the Urrutias came to Reynolds full-time. They've never looked back. "We tell people all the time that we live like we are on vacation," says Stacey. "To raise our boys in such a genuine community so close to their grandparents and to have access to everything here is a blessing. Why would we ever need to leave?"