When the 30 members of the senior class at Lake Oconee Academy (LOA) are handed their diplomas on Saturday, May 26, they won't be the only ones marking a milestone. The Class of 2018 will be the first class to graduate from the 10-year-old public charter school, and the students know they've been through something special.
"We've had to be a groundbreaking force," says Senior Bobby Hatfield. "We've had a lot of opportunities because there has been no one before us to show us the way." Like his fellow seniors, Hatfield has taken advantage of those opportunities: He played basketball and baseball, and was a member of the Beta Club, student government, and theater groups while at LOA.
"This class has been tolerant in that they will be the first class to graduate," says Dr. Otho Tucker, the school's CEO. "I think their willingness to be part of the adventure, which has hopefully been a very good one, has been impressive."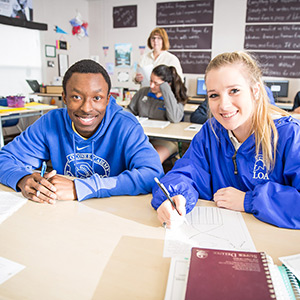 "We're the ones to test out the new classes for the next year," says Senior Grace Cosby, who plays softball, tennis, is in student government, and participates in Skills USA, a career and technical student organization. "We're the ones to find out if something will work or not and sometimes it's a trial, sometimes it fails. But more often it has been a success."
LOA opened in 2007 with 11 kindergarteners. For the 2017-2018 school year, the student body reached nearly 960 in grades K through 12.
"When I got here in the sixth grade, there were little pine trees that were saplings," Hatfield says describing the school grounds. "Now they're 12 feet tall. It's really neat to see everything grow."
It isn't only the kids who've grown up: In 2016, LOA was named the highest performing startup school in Georgia in the state's College and Career Ready Performance Index. Credit a community of administrators, teachers, parents, and area residents who have created an environment that encourages high achievement.
"The people who have come on board with us and taken a leap of faith have been the difference," says Tucker. "The parents took a leap of faith until we laid down a foundation. That's the rewarding part. Without them it never could have happened."
"Friends and teachers are like family to me now," adds Hatfield. "The relationships you build with people, especially with such a small class, are pretty unique."
"This senior class has become a group of brothers and sisters," adds Cosby. "We love each other. We've always know that this class is special and that has brought us closer."
Hatfield describes his fellow seniors as "Swiss army knives" because they've had the chance to experience everything from piano to tennis to Advanced Placement classes. "A lot of the things that we've done are things you only see done in more metropolitan areas where they have much larger programs," says Tucker. "Our board has let us be adventuresome, which I commend them for."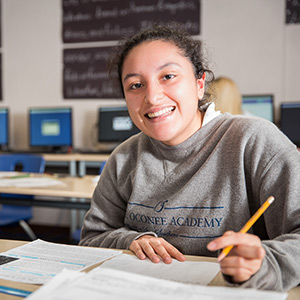 Success is part of the school's culture.
"Our teachers teach on a higher level," says Cosby, who plans to study pre-med at Georgia Southern University in the fall. "The curriculum is rigorous, but I love it. I wouldn't want to be anywhere else."
"We are immersed in an environment of incredibly driven and incredibly motivated peers," says Hatfield. "If you have a will, there is always going to be somebody here to drive you to do that much better and prove yourself."
Everything that happens on Saturday will be a first for Hatfield, Cosby, and their classmates: caps, gowns, a walk across a stage, diplomas, then entering a much bigger world.
"We're the first," says Cosby. "Graduation is going to be monumental and it's going to be really emotional for this first class."
"It will feel like a tremendous sense of accomplishment because whenever you have to work really, really hard at something, it just makes it that much more worth it," Hatfield says. "I've worked so hard academically and athletically. I will feel like I have accomplished something really unique. I think it will be like running the last leg of a race and breaking a ribbon."
The finish line is close. LOA's senior class – its first – is ready to cross it.