Their home is designed as an idyllic training site. So why do they ever leave?
T. K.. and Sherri Kerstetter used to de­scribe their dream to friends in Nashville. Now they just show those friends around their recently built lakefront home at Reynolds.
"We started talking about living on a lake probably 31 years ago," says T.K.
"There are plenty of lakes around Nashville, aren't there?" asks a visitor.
"Not with six golf courses and a modern club facility, there aren't," says T.K.
The Kerstetters have always been active. T.K. had a Hall of Fame basketball career at Indiana University of Pennsylvania. Sher­ri has completed more than 30 triathlons. Their two daughters were high-school stars in basketball and track-and-field. So the dream home is loaded with everything a fit family could possibly want. An exercise room that looks as if it were carved from Planet Fitness. A living-room view of the pool and lake. A jogging trail out the back door. A garage lined with tire pumps, golf clubs, Gatorade, and bikes hung like wall art.
Yet several times every week, T.K. and Sherri pack their gym bags and leave it all behind for what they consider "a getaway" at The Lake Club.
"The variety draws us in," says T.K., running in the lap pool to strength­en knees and an Achil­les that have been sur­gically repaired. "The environment keeps us here." Like an extension of the dream.
THE CLUB SCENE → "A trip to The Lake Club is our daily resort experience" says Sherri. "The variety of classes offered — like spin, yoga, and circuit — mean we never get bored."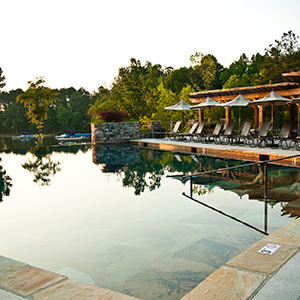 FITNESS CENTER
The view of the lake from the treadmills rivals the view from the couch on the Kerstetter's back deck. "When it rains, we're usually in here. It isn't a boring way to run."
INDOOR LAP POOL
Olympic gold-medal swimmer Angel Sims leads wellness classes and swims in the pool where Sherri trains three times a week for her triathlons. "We're in good company."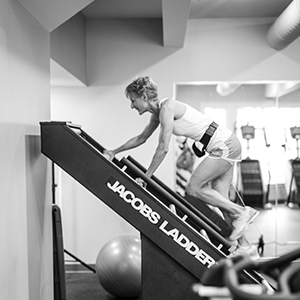 CROSS-TRAINING FACILITY
This lower level of The Lake Club is home to battle ropes, TRX, weighted-ball tossing, and the Mount Everest of exercise gear: Jacob's Ladder. "It's intense. Wanna try?" Moving on …
INFINITY POOL
One of three enormous pools on site, this one is for adults only. There's nothing intense happening here. "Our reward is hanging out at the wall with a cocktail from the bar."
LAKESIDE LUNCH
Those who don't complete a circuit-training class can still feel good about knocking out a spinach salad and smoothie at the café. "A healthy lunch is a good reason to stick around."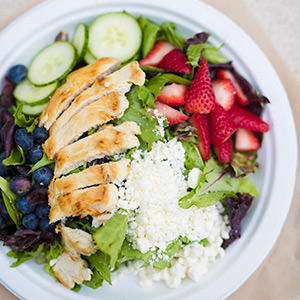 FAMILY ATMOSPHERE
There's no better place for families than the pool slide. "Our friends come with their kids and spend hours in that pool. We look forward to doing the same thing when we have grandkids."
FUN FACT: The Lake Club is 38,000 square feet, making it larger than the Governor's Mansion in Atlanta, GA.