Invited to a party? Making a guest appearance at someone else's home? You'll receive the warmest of welcomes if you arrive with one of these hostess gifts in hand.
Visiting neighbors and friends, sharing a glass of wine, or hosting dinner at home are all part of the Lake Oconee lifestyle. And as your mother no doubt told you, whether it's a casual lakeside picnic or seasonal gathering, you should never arrive empty-handed. That's why we polled a few expert shoppers and gift-givers for ideas sure to put a smile on any hostess's face and ensure you're welcomed back time and time again.
1. Fresh Fruit
A bountiful gift of citrus is always welcomed, particularly when presented in a brightly colored bowl or interesting basket. And, of course, there is always the added health benefits of an extra shot of Vitamin C.
2. Gardening Gloves
foxglovesinc.com
Her search for a tactile-friendly glove led Fox Gloves founder Harriett Z to try dress gloves from the 1950s. On the plus side, the classic glove fit snugly and offered great sensitivity, but the fabric couldn't withstand the harsh conditions of digging in the soil. So she adapted modern sport-performance fabrics to the task, creating durable, form-fitting, extremely comfortable, and long-lasting garden gloves.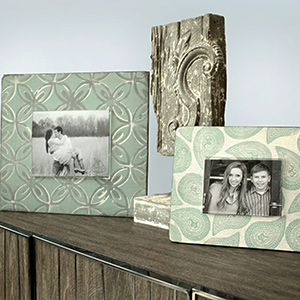 3. Picture Frames
quiteapairkeepsakes.com
Quite a Pair Keepsakes, a local company that began as a Mother's Day art project in a kindergarten classroom, creates beautiful frames by hand from recycled scrap wood. Locally, the frames are available at Fishtales in Greensboro, 44Marketplace and Lake Oconee Ace Hardware in Eatonton, and seen in the model homes at Lingering Creek.
4. Candle Holders
glassybaby.com
While undergoing cancer treatment, Lee Rhodes lit candles in hand-blown glasses, inspiring a business devoted to giving hope, beauty, kindness, and millions of dollars to help people, animals, and the planet heal. Each Glassybaby votive and drinker shines with color formed from solid glass batons that glow in hundreds of uniquely named hues.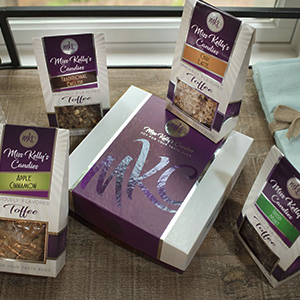 5. Candy
misskellycandies.com
If you know someone with an addiction to chocolate or crazy for unusual flavors, Miss Kelly's Candies has you covered. Artfully packaged, the toffee comes in dozens of flavors, ranging from Classic to Raspberry Kissed, Island Coconut, and Ghost Chili Ginger, as well as seasonal special offerings like Egg Nog and Pumpkin Spice.
6. Preserves and Condiments
spoon.com
From the freshest ingredients and age-old recipes come the bountiful goodness of American Spoon preserves and sauces. From its plant in Petoskey, Michigan, American Spoon handcrafts fruit preserves and condiments in small-batch copper kettles, capturing the singular flavors in every jar.