Milledgeville, Georgia is a 30-minute drive from Reynolds Lake Oconee, but for many it's the road to a bright future.
Milledgeville is home to Georgia College & State University (GC&SU), a public liberal-arts university with more than 6,000 undergraduates and 800 graduate students. For years, many of those students have finished their classes and made their way to Reynolds, working part-time to help fund their educations. As they've interacted with members day after day, these students have become part of the Reynolds family, and a number of residents are giving back by funding special GC&SU-Reynolds scholarships.
"I've always had a desire to assist young men and women in achieving their long-term goals," says Dr. Robert Lowe, a retired Pfizer executive and former Marine who lives in Bennett Springs.
"When I moved to Reynolds full-time from Long Island, New York in 1998, I began serving on the GC&SU faculty and as a trustee for 10 years. My wife Linda and I decided to start an annual scholarship earmarked solely for students who work at Reynolds. We wanted to say thank you for all they do to make Reynolds such a wonderful place to live."
For more than 15 years, the Lowes have given $1,000 each to one or two students per year to help offset their college expenses: To date, they've given approximately $40,000. This past April, Ryan Albright, a Creek Club cart attendant for more than three years, became one of the latest recipients of a Lowe Scholarship.
"I graduated in May 2016 with a B.S. in Exercise Science and currently attend graduate school for Human Performance," says Albright. "I hope to become an Occupational Therapist. Juggling both school and work takes dedication, but Reynolds has been so good to me, always flexible with my class schedule and understanding that my studies are very important." Albright is very grateful to the Lowes: "Every dollar goes a long way for me and it's great members are so giving." Jim Fleece also shares the desire to help future generations succeed. A resident of Parrott's Pointe since 1999, when he retired from the oil business in Houston, he especially enjoyed when the GC&SU Jazz Band would perform on property. A member of GC&SU's Foundation Board, Fleece put money to the music.
"It was decided to start a neighborhood-driven scholarship fund for students in the Jazz Band because we just loved their performances and appreciated their talent."
The first scholarships were given in 2004. As years passed and the fund grew, Fleece recruited "like-minded" neighbors and formed a Steering Committee to help manage and fund-raise for the Parrott's Pointe Scholarship Fund.
"We realized while the jazz performances were wonderful, our student employees were our best representatives at GC&SU," says Buddy Nix, one of five current members of the Steering Committee. "The entire committee truly admired what they were doing to better their futures and for us, so in 2015, we made the decision to change and give money to Reynolds or The Ritz-Carlton Reynolds employees moving forward."
As with the Lowe scholarship, two or three student employees are awarded $1,000 each annually from the Parrott's Pointe Scholarship Fund; so far, nearly $40,000 in scholarships have been granted from this fund alone. Along with employment at Reynolds and final selection from GC&SU, applicants must be in good standing academically, full-time in any year, and in need of financial aid to be considered for either the Lowe or Parrott's Pointe scholarship.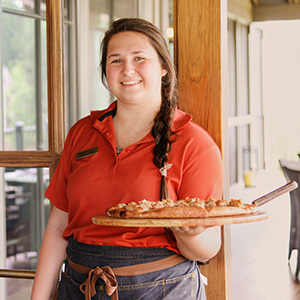 Two recipients of the Parrott's Pointe Scholarship for this past school year were Emily Delano, who is scheduled to graduate in December 2018—she is studying nursing with a minor in Spanish, hoping to become a bilingual NICU nurse—and Taylor Ockunzzi, who graduates this December with a B.S. in Environmental Science and Biology minor.
"I pay for everything on my own so I am thrilled to have extra money to help with school expenses," says Delano, a food runner at The National Tavern for almost a year. "Reynolds is such a great community and it's very rewarding to work for members who have a genuine interest in my future."
Ockunzzi started working on the banquets team two years ago and now works at the The Creek Club, serving and bartending to Platinum members. "With the exclusivity of The Creek Club, I pretty much know all the regulars and feel a real connection to many of them," she says. "It really means a lot if I have been off for a few days because of school and then come back to a member who asks 'How did the test go?' All the members are very encouraging, which makes being a full-time student employee a little easier."