Sleep Here → Each cottage is set up as you might design a home on a golf course at Reynolds. Four bedrooms and four-and-a-half baths for four couples or four friends. Furnished for indoor-outdoor living. Front and back porches within a chip shot of all amenities. And a big kitchen to prepare breakfast (passing up lunch and dinner at The Tavern next door would be a massive swing and a miss.)
Practice Here → The short-game facility is about 40 strides from the cottage balconies and is constantly replenished with practice balls. Stroll down at your leisure. Pre-dinner putting contest anyone?
Pause Here → Tucked in the middle of everything is The Market. It's the pit stop for sandwiches, beers and to-go cocktails — "to go" meaning to the next nine, to the driving range, or back to the cottage porch.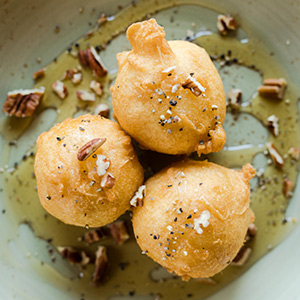 Play Here (And Love It) → Load up a cart at The Stables (the cart barn) and make the decision: which nine to play first at The National: The Cove, The Ridge or The Bluff. Playing The Bluff late in the afternoon leads to a phenomenal finish on its dogleg ninth, with an approach around the pond and onto the green framed by the sunlit Tavern. Hole it out and move on to a platter of quail poppers.
Dine Here → It isn't time to call it a day. Not yet. The Tavern is between the final hole at The Bluff and the cottages. It has a nouveau farmhouse design, modern rustic decor, and open interior with views to tempt golfers onto the putting green, fire pit and the corn-hole boards. It's homey, but with food that's out of this world.