Ask 117 golfers at Reynolds Lake Oconee what their favorite hole is and you'll likely get 117 different answers, which just happens to be the number of holes on our six golf courses. Then ask the thing golfers like about Reynolds and you'll get responses in the thousands—as in the number of people who live along the fairways and waterways. However, it's almost impossible to find golfers who don't mention "the people" as their favorite aspect of life at Reynolds. Here are some of their stories.
Rylan Black (pictured above) only recently began focusing on competitive golf, which may explain why he gets a big kick out of beating his regular playing partners, Bob Black and Alec Ward. But it's okay: Bob and Alec are Rylan's grandfathers, who are as happy to lose to their 12-year-old grandson as he is to win their nine-hole matches. Straight up. No strokes. "It's a lot of fun to play with them because they are really competitive," says Rylan, part of a three-generation golfing family all living at Reynolds. "They always play well. I have to shoot 36 or 37 to beat them." Rylan, a seventh-grader who lives with his parents and younger sister on the lake, has a competitive background in baseball as a travel-team pitcher and shortstop. But golf is his favorite sport, for many of the same reasons people move from all across the country to live here: the joy of playing the game and making friends for a lifetime. "I get to know a lot of people," Rylan says. "I go out with my friends and play and make other friends. And I enjoy looking at other people's game and seeing what I can do better in mine."
Apparently Rylan has been watching and learning from his two grandfathers. His first victory over them at The Creek Club was memorable, but not profitable, as it won him only bragging rights. "Maybe from now on we can play for a drink, or something," Rylan says. That would be a Sweet Tea, Rylan's favorite drink at The Landing.
His favorite course is The Creek Club and his favorite hole at Reynolds is No. 5 at The Landing, with Lake Oconee bordering the entire left side all the way to the green. He's also a huge fan of the appetizers at The Landing clubhouse, not to mention the freshly baked bread.
But none of that tops his most favorite thing: playing golf with friends. "That is very cool," he says.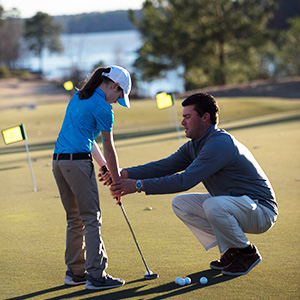 Ryan Frisch, the head golf professional at The Landing, picks as his favorite the development of junior golf and family golf. "We now offer so many fantastic options for families and juniors to enjoy the game," he says. "Having a dedicated program that is essentially year-round makes a world of a difference and greater impact."
So it's no surprise that Frisch's favorite event at Reynolds is the new Junior Club Championship at The Landing. "Watching the young players grow into a championship level is very rewarding for me, but actually seeing their pure excitement when they sink a long putt or add a few yards to their drive—now that's priceless."
If he had to pick one place to hang out, it would be the National Tavern, where he spent his birthday last year with family and friends. "I love the scenery, the large open feel," Frisch says, "and the pizza is fantastic."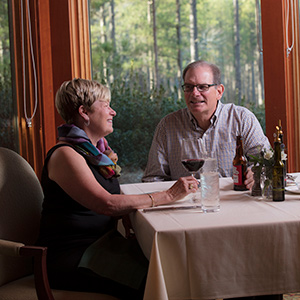 Jim and Kathleen Acra have been playing golf at Reynolds since the mid-'90s, splitting time between their homes in Ohio and one on the fifth tee of The Oconee course, which is Jim's favorite. "I am a big fan of Rees Jones," he says. So is Kathleen, but she favors the Jack Nicklaus-designed Great Waters, "for the beauty. You can't have someone come here to visit and not play Great Waters."
They do agree on one thing: their favorite hole, the par-3 13th at The Creek Club, where each has had a hole-in-one. And while the new National Tavern has become their favorite place to go, Kathleen says the best part about dining at Reynolds is the variety of choices, and nothing beats the Piccata and Chicken Parmesan at The Creek Club.
Friends or family, the common thread among favorites at Reynolds is the people.
"The people we have met here are so friendly," Kathleen says. "It is very inclusive; everyone is so welcoming. It makes it easy to fit in." And keep discovering new favorites.