Seven junior golfers from Reynolds Lake Oconee will be sharpening their games this month in preparation for the sub-regional competition of the national Drive, Chip and Putt Championships on Sunday, July 30 – each keeping their dream alive to advance to the finals next April at The Masters.
Four girls – Kallyn Black, Lilly Kent Rainey, Kelli Scheck and Jane Monachello – and three boys – Canon Mullen, Collin Garofalo and Max DuPree – all placed in the top three of their age groups to advance through the local qualifying level recently at The Landing at Reynolds Lake Oconee.
Each of the advancing golfers is a member of Reynolds Lake Oconee or participates in the Reynolds First Move Junior Golf program, designed for boys and girls to learn and improve technical skills while developing a strong understanding of course management.
The year-old program, under the direction of Rob Bowser, Player Development Manager for the Reynolds Kingdom of Golf presented by TaylorMade, provides a fun, supportive, and positive learning environment for players to work hard, reach their potential, and become "golfers for life."
The next level of Drive, Chip & Putt competition is to be held at The Landings Club in Savannah, with the top two in each age group advancing to regional competition later this summer. Only the winners of the regional earn a trip to Augusta National for the finals (April 1, 2018).
At The Landing at Reynolds Lake Oconee competition on June 15 – as with all levels of the Drive, Chip & Putt Championships – players earned points for golf skills.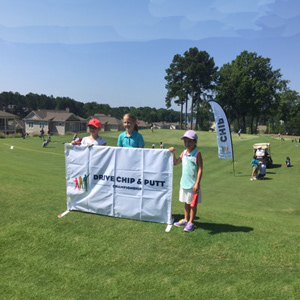 Garofalo and Black were the leading qualifiers among the First Move Junior Golf players, with Garofalo (87 points) winning the Boys 10-11 age competition and Black (63 points) winning the Girls 7-9 group.
Rainey (44) was second in the Girls 7-9 age group, while Scheck (88) was second, and Monachello (62) third in the Girls 12-13. Max DuPree (141) placed second in the Boys 14-15 group.
First Move Junior Golf players who are sub-regional alternates from The Landing at Reynolds Lake Oconee competition are Rhys Postlmayr (Girls 7-9), Sarah Spivey (Girls 14-15), and Rylan Black (Boys 14-15).
This is the fifth year of the Drive, Chip & Putt Championship, a free nationwide junior golf development competition aimed at growing the game by focusing on the three fundamental skills employed in golf. It was established in 2013 as a joint initiative of the Masters Tournament, United States Golf Association, and PGA of America.