For Alice Leakey, an unforgettable day began with an unexpected request from her husband:
"Let's just play nine holes."
Once a hobby enjoyed alone, together, and with other couples, the once-familiar pastime had taken a leave of absence for the Reynolds Members, who moved to the golf community in 1997. Both Alice and Ken were unable to play for over two years due to lingering family medical issues.
But the urge to play the game again stayed on Alice's mind, so when her husband suggested recently they go play The National course , their favorite, she eagerly accepted. "When we arrived at the driving range, Ken said 'Let's just go play,'" laughs Alice. "I hadn't even practiced or swung a club in two years, but off we went!"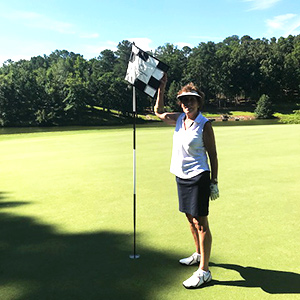 On Hole #3 at The National Cove, she struck a tee shot with her driver and immediately lost sight of the ball. "We walked towards the pin about 132 yards and I thought 'Oh dear, where did it go?', remembers Alice. "I jokingly told my husband I'd look in the hole," having no idea what she would find.
Much to her surprise, her ball, marked with her insignia "A", was lying at the bottom of the hole. Alice had sunk a hole-in-one after a two-year hiatus, a second in her lifetime.
Her hole-in-one reignited Alice's passion for the game of golf, resulting in two additional rounds since and plans to play much more as the weather cools down., "The hole-in-one set the tone moving forward, "says Alice. "I've since learned that no matter what your current situation, just get back out there and go for it."
Maybe you'll surprise yourself just like Alice.