Greensboro's historic main street looks much the same as it has for decades, lined with trees and dripping with Southern charm. But a new enterprise recently launched in the tight-knit community of antebellum homes, churches, and antique shops: Oconee Brewing Company (OBC).
Labeled by both locals and visitors as "the middle of nowhere," Greensboro may seem an unlikely location for a microbrewery. But project developer and co-founder Nathan McGarity says the small town is actually in the middle of everywhere. "The Lake Oconee region is within short driving distance to all major cities in Georgia including Athens, Atlanta, and Augusta. With thousands of tourists traveling through this area every year, a brewery just makes sense."
"I stumbled upon Greensboro after a business partner took a wrong turn nearly 10 years ago," laughs McGarity. "After he explained the town a bit more to me, and making a visit myself, I knew right away that this town could be a prime location for a craft brewery."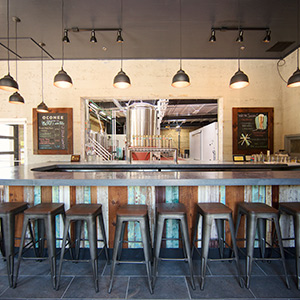 McGarity's vision became a reality last spring. Along with co-owner and masterbrewer Taylor Lamm, they opened OBC in a 6,000-square-foot, circa-1917 mill warehouse that also served as a bottling plant for the long-gone Chero-Cola in the 1930s. Leaving much of its history intact, the brewery's most interesting features highlight its historic past. Still visible, you'll notice a faded, hand-painted Chero-Cola sign on the building's exterior and a salvaged 120-year-old Schofield Iron Works boiler door mounted to a crumbling brick wall from the original warehouse structure, which is now being used as the outdoor patio area for guests and bands.
With modern enhancements, such as new concrete floors and exposed metal beams, the over 100 year old mill has been given new life. This transformed facility is home to 15 steel brewing tanks that can hold up to 500 gallons of beer. There's also a tasting room—OBC offers public tours—and a 3,600-square-foot event space with a floor-to-ceiling glass-curtain wall that opens to an outdoor patio.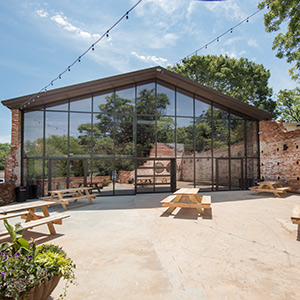 The taproom, which looks over the brewing floor, gives guests the opportunity to try OBC's craft beer at its freshest. Plus, this fall, after the passing of Georgia Senate Bill 85, OBC will be able to sell beer directly to consumers. Customers can expect a change to the current tour/tasting structure and will be able to purchase individual pints, growlers, or six-packs.
"On any given day you'll find numerous beers on draft," explains Lamm. "We plan on featuring a permanent lineup, which will include a Habanero Pale Ale, a Dunkelweizen, a Kolsch, and an India Pale Ale, along with rotating seasonal brews." (See next page for more on OBC's offerings.) OBC has signed Georgia Crown Distributing to distribute kegs to restaurants in the local and regional markets, including The National Tavern and The Creek Club at Reynolds.