Great barbecue is a staple of the South, and you will find a variety of great barbecue joints just a few miles down the road from Reynolds. The following selection of restaurants serves every cut of meat—beef ribs to beef brisket, pulled pork to pork tenderloin, chicken to sausage—as well as a tasty range of rubs, sauces, and marinades. So whether you like homemade dry rubs or vinegar-based sauces, finger-lickin' sweet to relief-seeking hot, this list is smokin'!
Andy's BBQ
100 Friendship Road, Eatonton
Approximately 18 miles from Reynolds
Famous for its barn-like building, large porch with rocking chairs, and Coca-Cola memorabilia, Andy's has been serving the region since 1988. Try the chopped pulled pork sandwich, marinated with a secret vinegar-pepper barbecue sauce handed down through four generations, and a generous side of homemade macaroni and cheese.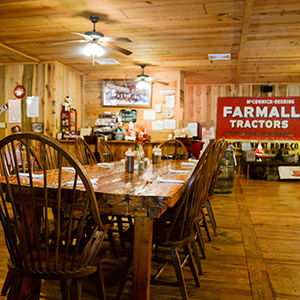 Sission's Old South Barbecue
651 Old Phoenix Road, Eatonton
Approximately 5 miles from Reynolds
With the slogan "We're Smoking the Good Stuff," it's no surprise that you can smell it at Sission's long before you reach the front door. From down-home country side dishes to fall-off-the-bone hickory smoked barbecue, every item on the menu is made from original family recipes. They won't disclose much about those recipes other than to say that the secret is their handcrafted dry rub.
Holcomb's Bar-B-Q
404 West Broad Street, Greensboro
Approximately 12 miles from Reynolds
Holcomb's is well known for the staple of Southern barbecue, Brunswick Stew, which is served as a side with nearly every dish on the menu, including favorites such as barbecue pulled pork plates and pulled pork sandwiches. Holcomb's is the oldest barbecue restaurant in the area, having recently celebrated its 45th anniversary.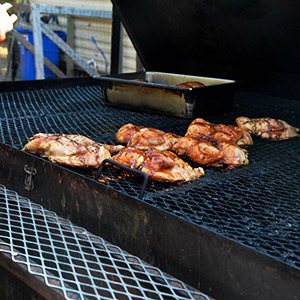 Georgia Butts
1137 Lake Oconee Parkway, Eatonton
Approximately 4 miles from Reynolds
With a large, diverse menu featuring specialties such as shredded brisket, pulled pork sandwiches, and succulent, tender ribs, Georgia Butts has been a local favorite since 2007. It offers lunch, dinner, and great catering: Clients have included the University of Georgia Football Team and the Bruce Arians Foundation's Annual Golf Classic at Reynolds. Speaking to the restaurant's popularity, they recently moved into a new and bigger home on Highway 44.
JB's Smokin' Pig
64 North Main Street, Watkinsville
Approximately 37 miles from Reynolds
It's all about the sauce, and not just one but a choice of seven different sauces here, from hot vinegar to sweet-and-savory, each made in-house. And they complement everything on the rich menu, which features barbecued brisket, pork, ribs, chicken, and a new catch, catfish.