It's not unusual to see the Reynolds chefs set out to explore the Georgia countryside in search of fresh, local ingredients that would enliven their offerings. Away from their kitchens at The National Tavern and The Creek Club, deep into the country they drive.
Barely 30 minutes into the ride, they stop. Surrounded by closed-down shops and a long-shuttered furniture factory, the chefs get out of the car. This is hardly farmland. It's downtown Sparta, Georgia.
"Here we are," says Reynolds Executive Chef Derin Moore, excited to be here. He shakes hands with 76-year-old Robert Currey, founder of Elm Street Gardens and Sparta Mushrooms. Wearing worn boots and carrying a little watering jug, Currey leads them around the back of his 1840s farm house into the promised land. Fig Trees. Peaches. Blueberries. Tomatoes. Purple-hull peas. A field of arugula. Chef Moore picks a turnip and samples it. "That's the real test," he says, "when a raw turnip tastes good."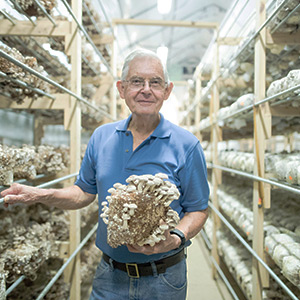 Currey—who started, ran, and operated three very successful businesses before this—says he and his staff can grow 50 different vegetables in a 12-month period on this one-acre lot in the middle of town. "This is probably the most meaningful thing I've ever done."
Currey could be on a sailboat in the Caribbean. Instead, after a lunch date in Sparta several years back, he and his wife decided to combine the concept of farming with the idea of retirement.
"We wanted to make Sparta better," says Currey, who became a vegetarian after having heart problems 20 years ago. "We saw an opportunity to provide jobs, to promote an interest in healthy foods, and to bring the community together. It wasn't what I planned, but you could say I literally stepped into it."
The tour continues, with another surprise for the chefs. The abandoned furniture plant across the street is a climate controlled mushroom farm. Three varieties growing on racks: shiitake, oyster, and lion's mane. This is also part of Currey's urban-farming enterprise, part of his plan to make a long-term difference in this community. "It's hard to find mushrooms like this," says Moore. "I can't wait to get these on the menu."
The Elm Street Gardens and Sparta Mushrooms aren't only for professional chefs. They're open to the public on Tuesdays (June to October) and Fridays (all year) from 3–5 p.m. It's about a 30-mile drive from Reynolds to 15 Elm Street. Park on Hamilton Street by the back gate and walk down the back driveway to the barn. Other favorites include the Morningside Farmers Market and Freedom Farmers Market in Atlanta, open year-around.